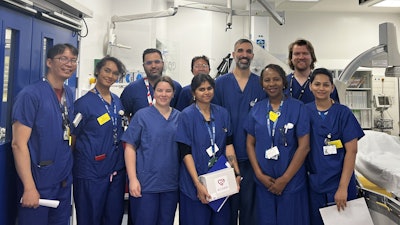 Acorai AB
Acorai, a start-up medical device manufacturer from Sweden, this week announced the initiation of a global clinical trial with the enrollment of its first patient in London, UK.
Acorai was designated as a breakthrough device by the U.S. FDA in August 2023 and they aim to submit their heart monitor for regulatory approval to the FDA and CE-marking in 2024.
Acorai is developing a first-of-its-kind, scalable medical device for non-invasive intracardiac pressure monitoring to improve heart failure management for more than 64 million patients worldwide. The heart monitor has demonstrated accuracies comparable to the invasive gold standard in a 400-patient feasibility study and consists of a unique, patented hardware technology and proprietary machine learning system.
The first of the patients in the Acorai MLG Study (Machine Learning Generalization) [NCT05835024] was enrolled at Royal Brompton and Harefield Hospitals by Dr. Owais Dar and his team. Dr. Dar is a cardiologist specializing in heart failure and leads the advanced heart failure, heart transplant, and mechanical circulatory support research program at Harefield Hospital.
Acorai will expand its clinical studies to other European and U.S. sites over the coming months, with an overall recruitment target of 1,200 patients. This expansion will start with Dr. Dar's colleague Dr. Colm McCabe, a specialist in pulmonary vascular disease at the Royal Brompton, followed by Rigshospitalet (Copenhagen, Demark) and Cardiovascular Center, OLV Hospital (Aalst, Belgium). Amongst their internationally renowned clinical collaborators is Duke Clinical Research Institute DCRI, (Duke University, USA), operating as the core lab for the study to ensure the highest study quality and independence.
Acorai's foremost U.S. clinical collaborator is Saint Luke's Mid America Heart Institute (Kansas City, MO), led by principal investigator Dr Tim Fendler. Saint Luke's is anticipated to be the first U.S. enrolling site on September 11th, 2023.
The 1,200-patient study will run in two phases, with the first phase concluding after 920 patients, and will be used to finalize its machine learning algorithms for final testing. The second phase will commence at the beginning of 2024 and will support the final software validation and regulatory application for clearance and approval for use within U.S. and Europe.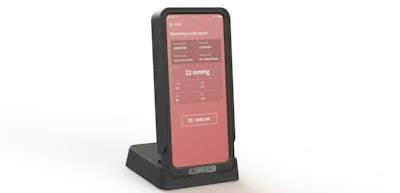 This study builds upon the success of a similar protocol conducted by Niklas Bergh (Sahlgrenska University Hospital, Gothenburg, Sweden) and Göran Rådegran (Skåne University Hospital, Lund, Sweden) with the first generation of the Acorai Heart Monitor, which concluded in June 2023 with a total of 400 patients enrolled.
The prevalence of heart failure is a significant concern worldwide, affecting more than 64 million people. In the United States alone, around 1 million of the 6 million individuals with heart failure are hospitalized each year due to their condition. Unfortunately, 30% of patients return to the emergency room within less than a month of being discharged, resulting in poor quality of life and a cost of over $100 billion to the US healthcare system.
Intracardiac pressure monitoring (ICPM) is an effective way to manage heart failure patients, but within the hospitalized and clinic environment, only invasive methods exist to assess this vital parameter accurately. The Acorai device's non-invasive handheld form factor could improve access to ICPM and potentially reduce time and cost. It has been shown that access to these vital signs can improve the quality of care for patients, yield better health outcomes, and result in significant cost savings.