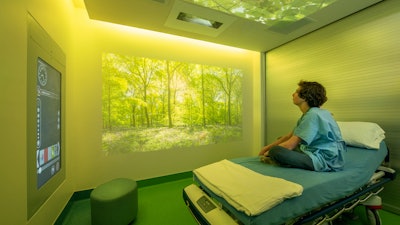 Royal Philips
Royal Philips has received a gold-level 'Touchstone Award' from the Center for Health Design for the Ambient Experience behavioral health rooms it co-developed with Children's Medical Center Dallas (Dallas, TX, U.S.) and social solutions software company Recornect (Eindhoven, the Netherlands).
This behavioral health experience solution, which humanizes mental health care delivery in the hospital's emergency department (ED), combines a resilient touchscreen interface, lighting, sound, video projection and therapeutic content to de-escalate patient behaviors that impact patient and staff safety. By allowing staff to connect with patients in new and interactive ways, it also helps deliver therapy more quickly.
"Since the start of the COVID-19 pandemic, we have seen an increase in the amount of young people feeling extremely sad about their lives. Instead of sitting in an emergency room for days with nothing to do, which can worsen their condition, Philips' solution now gives them the chance to really make it their own space. In addition, our staff are now even more comfortable interacting with patients, regardless of the patient's age or condition," said Geneva Burnap, Senior Director, Emergency Services at Children's Health.