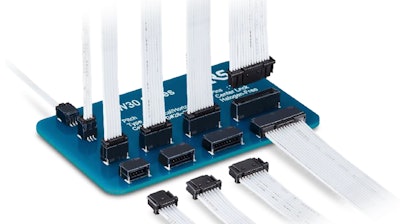 Hirose
Hirose, a leader in the development of innovative connector solutions, has expanded its SignalBee wire-to-board connector product offering with an ultra-reliable 1mm pitch version.
Available in two thru eight positions, the KW30 Series miniature single-row connector offers enhanced reliability via a 2-point contact design combined with crimp contact deflection prevention. In addition, a rib design provides a secure fit when mating the plug and receptacle producing high vibration resistance. A center lock prevents incomplete mating, mis-insertion and lock damage.
Offering design flexibility, the KW30 Series is offered in several variations including straight or right angle interface types; 28, 30 or 32 AWG; and gold plating.
The KW30 Series connector is an ideal choice for a range of applications including home appliances/white goods, medical devices, office equipment, industrial robots, FA controllers, servo motors and more.
"Hirose continues to expand the SignalBee product family to meet the need of customers," said Mark Kojak, Chief Marketing Officer and Senior Vice President of Sales and Operations for Hirose Electric USA. "The KW30 Series wire-to-board version delivers rugged and reliable performance in a miniature 1 mm pitch."
The KW30 Series has a current rating up to 3.0A, a voltage rating of 100V AC/DC and an operating temperature range of -55°C to +105°C.