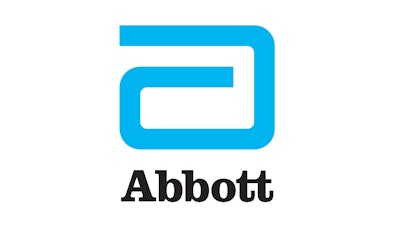 Abbott
Abbott today announced U.S. availability of its Amplatzer Steerable Delivery Sheath, which is used with the company's Amplatzer Amulet Left Atrial Appendage (LAA) Occluder to treat people with atrial fibrillation (AFib) who are at risk of ischemic stroke.
The LAA is a small pouch connected to the upper left chamber of the heart. The most common persistent arrhythmia, or irregular heartbeat, AFib disrupts the heart's ability to effectively pump blood. If this condition is left untreated, blood can pool and collect in the LAA and increase the likelihood of a clot forming and traveling to the brain to cause a stroke.
For patients with AFib who are unable to take blood-thinning medication long term, physicians may opt for a minimally invasive procedure using devices like Abbott's Amulet to seal off the LAA entirely and reduce the risk of stroke.
Vivek Y. Reddy, M.D., director of electrophysiology, Mount Sinai Hospital completed the first U.S. procedure with the delivery system. Dr. Reddy says the sheath provides physicians with more flexibility and precise placement when implanting the Amulet device, in simple and complex anatomies. He says is allows doctors to close left atrial appendages in challenging cases.
Abbott's Amulet with dual-seal technology (consisting of a lobe or piece to fill the cavity of the LAA and a disc to close off the opening into the LAA) offers immediate and complete closure of the LAA. This reduces the risk of stroke and doesn't require blood-thinning medication following the procedure, which is significant since these medicines often carry bleeding risks.
To improve physician ease-of-use when implanting the Amulet device, the Amplatzer Steerable Delivery Sheath features bi-directional steering and an "auto-lock" function that provides confidence the sheath will remain in its desired position. The delivery system also includes a valve designed to stabilize blood flow and minimize blood loss during the procedure.