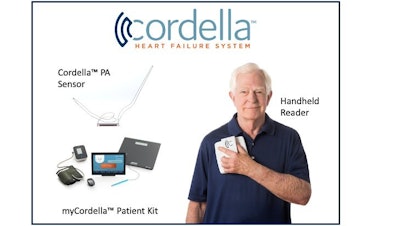 Endotronix
Endotronix today announced positive data from the SIRONA 2 clinical trial evaluating safety and efficacy of its Cordella Pulmonary Artery Pressure Sensor System in New York Heart Association (NYHA) class III heart failure patients.
The prospective, multi-center trial met all primary safety and efficacy endpoints and resulted in low rates of heart failure (HF) hospitalization, further validating pulmonary artery (PA) pressure-guided HF management as standard of care for NYHA class III heart failure patients.
Data from the SIRONA 2 trial was presented in a session at European Society of Cardiology's (ESC) Heart Failure Association (HFA) 2022 annual conference in Madrid, Spain on May 22nd.
The open-label, single-arm SIRONA 2 trial included 70 patients who were successfully implanted with the Cordella Sensor at seven European sites across Ireland, Belgium and Germany. The results confirmed a strong safety profile with no PA sensor failures, only one device/system-related complication (DSRC = 1.3%) and 0% mortality at 90 days.
The primary efficacy endpoint of accuracy, comparing Cordella Sensor with the gold standard fluid-filled reference catheter accuracy at 90 days, was also met. In addition, the study demonstrated a low 6-month HF hospitalization event rate (0.16) with the majority of patients improving their NYHA classification (67.5%).
Compliance with daily readings of PA pressure, weight, blood pressure, heart rate and blood oxygen were consistently above 93% over 6 months. Moreover, patients overwhelmingly found the system easy to use (94%) and were knowledgeable about their normal range of daily measurements (67%).
Key SIRONA 2 findings
No PA sensor failures and 0% mortality at 90 days
Equivalent accuracy of PA pressure measurement with gold standard fluid-filled reference catheter (Swan-Ganz) using two one-sided t-test (TOST) (p=0.003)
Low heart failure hospitalization event rates per patient at 3 and 6 months (0.11 and 0.16, respectively)
65.7% of patients had improved NYHA classification at 90 days
Consistent high patient compliance with daily patient measurements - 93% compliance at 180 days
84% of patients preferred PA pressure reading in the seated position instead of lying flat
PROACTIVE-HF is the first global IDE study for PA pressure-guided heart failure management and is currently enrolling patients to further validate the clinical findings from SIRONA 2.