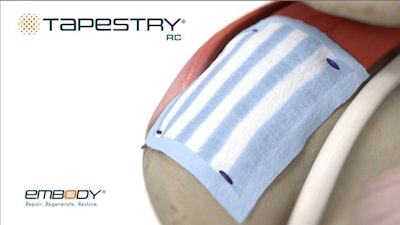 Embody
Embody, a privately-held medical device company focused on soft tissue healing, announced today that it has received 510(k) clearances from the Food and Drug Administration (FDA) for its TAPESTRY RC System for the treatment of rotator cuff disease. Uniquely designed for arthroscopic procedures, TAPESTRY RC System combines the healing benefits of the biointegrative collagen TAPESTRY implant with streamlined delivery and fully bioabsorbable anchor fixation.
The novel design of the TAPESTRY RC System combines an arthroscopic introducer pre-loaded with the TAPESTRY biointegrative collagen implant and bioabsorbable fixation anchors cleared for use by the FDA for fixation in both tendon and bone in an easy-to-use, pre-loaded anchor inserter.
"There remains an important clinical need to further improve upon the current healing rates in the treatment of rotator cuff disease," said Nicholas Sgaglione, MD, senior vice president and executive director of Northwell Health Orthopaedic Institute and Chair and Professor of orthopedics surgery at Northwell Health. "Embody's TAPESTRY RC System allows for efficient and versatile delivery in a fully bioabsorbable solution to biologic augmentation of the rotator cuff in arthroscopic procedures."
The company is planning to extend its current post market clinical studies in shoulder arthroplasty, foot and ankle, and gluteus medius repair to further include arthroscopic rotator cuff repair.