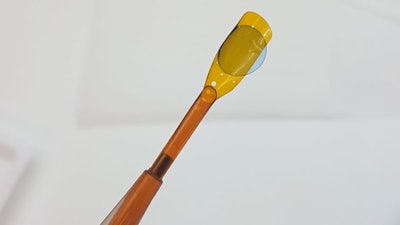 PRNewswire
Carl Zeiss Meditec and Precise Bio, a regenerative medicine company advancing the use of bio-printed tissues and organs, said the companies have entered into a partnership to develop and commercialize fabricated corneal tissue for transplants in patients that require endothelial keratoplasty and natural lenticule transplants for treating keratoconus and vision correction.
Under the terms of the agreement, Carl Zeiss Meditec will invest in Precise Bio and fund the further development of Precise Bio's two cornea transplant products and has exclusive worldwide commercialization rights for these products. Financial terms were not disclosed.
"This investment in Precise Bio is expected to complement our leading portfolio of cataract and corneal refractive workflow solutions," said Euan S. Thomson, PhD, President of Ophthalmic Devices and Head of the Digital Business Unit for Carl Zeiss Meditec. "The technology has the potential to advance treatment options for corneal disease, as well as for elective procedures – furthering enabling optimization of patient care."
"We are very excited with this partnership that builds on our successful, ongoing collaboration with ZEISS for the development of corneal tissues to address unmet needs in the field of ophthalmology," stated Aryeh Batt, Co- Founder and CEO of Precise Bio. "This strategic agreement leverages ZEISS' global leadership in ophthalmology and Precise' innovative and unique 4D bio-fabrication platform technology. We are confident that the synergy between the two companies will allow us to develop breakthrough solutions for recovering patients' eyesight, bringing hope to hundreds of millions of patients worldwide."