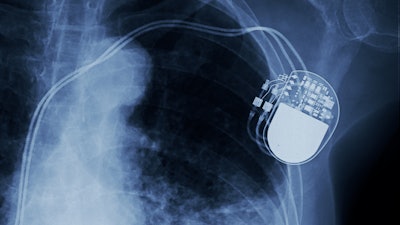 Abbott
Abbott offered up new data for MitraClip, its transcatheter edge-to-edge repair (TEER) device, and TriClip, its tricuspid heart valve repair device.
The company said the data reinforces the capabilities of its structural heart solutions for both mitral and tricuspid regurgitation (MR and TR) across a range of patient groups battling leaky heart valves.
The global EXPAND study is the contemporary, real-world study of MitraClip NTR/XTR that used an independent echo core lab and clinical events committee. The analysis of one-year clinical and functional outcomes demonstrates the benefit of MitraClip in secondary MR patients both within the eligibility criteria for Abbott's COAPT trial – which studied symptomatic heart failure patients with moderate-to-severe or severe secondary MR – and outside COAPT eligibility, including patients with moderate at baseline MR and patients with advanced heart failure. The data across all patient groups through one year showed:
Significant MR reduction to ≤1+ MR (81.3%-97.2%)
Improvements in New York Heart Association (NYHA) class (a classification of functional limitations resulting from cardiac disease) and quality of life from baseline
Comparable all-cause mortality and heart failure hospitalization rates
"Doctors have been using the eligibility criteria from Abbott's COAPT trial to identify heart failure patients with secondary mitral regurgitation (MR) who would benefit from MitraClip treatment," said Gilbert Tang, M.D., MSc, MBA, surgical director, Structural Heart Program, Mount Sinai Health System and professor of cardiovascular surgery, Icahn School of Medicine at Mount Sinai. "The real-world findings from this study show that excellent MR reduction and one-year outcomes were achieved by MitraClip not only in COAPT-like patients but also in a wider group of patients outside the COAPT criteria, meaning physicians may be able to help even more people with secondary MR. It'll be interesting to continue following the progress of these heart failure patients after MitraClip therapy."
Patients with TR who are candidates for transcatheter repair commonly have a pacemaker lead across the tricuspid valve. Combined outcomes from the TRILUMINATE and bRIGHT prospective, single arm, multi-center trials examined whether TR patients previously implanted with a pacemaker lead can benefit from the TriClip device and is the first report focusing on this group. In patients with TR and a pacemaker lead across the tricuspid valve, the following 30-day results of the TriClip and TriClip G4 TEER systems were demonstrated:
High rate of implant (98%) and acute procedural (91%) success
At least a two-grade TR reduction in 64% of patients
Life-changing clinical improvements including 69% of patients achieving NYHA Functional Class I/II, an improvement by 57% from baseline of 12%, with a marked 19-point improvement in Kansas City Cardiomyopathy Questionnaire (KCCQ) score (a self-assessment of symptoms, physical and social limitations, and quality of life in patients with heart failure)