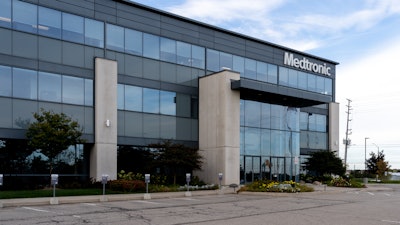 iStock
Medtronic has entered into a strategic partnership agreement with CathWorks, a privately held company headquartered in Kefar Sava, Israel, which aims to transform how coronary artery disease (CAD) is diagnosed and treated.
As part of the agreement, Medtronic will invest up to $75 million and immediately begin co-promotion of CathWorks' FFRangio System in the U.S., Europe and Japan, where it is commercially available. As part of a separate agreement, Medtronic will have the option to acquire CathWorks once certain undisclosed milestones are met.
CathWorks will also have the right to compel Medtronic to acquire the company if Medtronic chooses not to exercise its option. The acquisition option agreement will expire in July of 2027, with an estimated acquisition of up to $585 million and potential undisclosed earn-out payments post-acquisition. Medtronic has held a minority investment in CathWorks since 2018.
Fractional flow reserve (FFR) is a diagnostic technique that evaluates the physiologic impact of coronary artery stenosis, making it an important part of the decision-making process when managing patients with CAD. While FFR is an important diagnostic tool, supported by strong clinical evidence, the nature of traditional FFR — which requires invasive measurements with wires and stimulation with hyperemic agents— has resulted in its underutilization. In contrast to traditional FFR, the FFRangio System combines artificial intelligence (AI) and advanced computational science to obtain quick and reliable FFR values from routine angiograms (X-rays), eliminating the need for drug stimulation and invasive pressure wires.
"Data and AI-enabled technologies have been shown to drive improved workflow and patient outcomes across the healthcare ecosystem. In cardiology specifically, these new advances in technology provide clinicians with the opportunity to gain additional information to improve and evolve the diagnosis and treatment of patients with CAD," said Jason Weidman, senior vice president and president of the Coronary & Renal Denervation business, which is part of the Cardiovascular Portfolio at Medtronic. "We are excited to partner with CathWorks to offer the FFRangio system to our customers. We believe strongly in the potential of the technology and are committed to strengthening our relationship with CathWorks to provide new, innovative technologies and solutions from diagnosis to treatment."