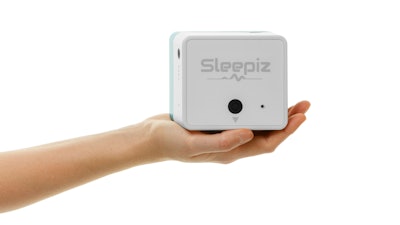 Sleepiz
In July, Swiss medTech startup Sleepiz registered its Sleepiz One+ device for contactless measurement of breathing and heart rate with the FDA and announced its expansion into the U.S. Now Sleepiz is joining the American Telemedicine Association (ATA). Membership gives the company access to a broad network of tech providers, investors, health institutions, industry experts and policy makers.
"Membership with the ATA gives us the opportunity to raise awareness of Sleepiz's technology in U.S. and global markets," said Robb LaChappelle, Sleepiz's vice-president in the United States. Sleepiz CEO Soumya Dash said, "This is an important step in bringing the benefits of our technology to patients, physicians and researchers, expanding the company's success into foreign markets."
Sleepiz One+ is one of the first respiratory monitoring devices to contactlessly capture and record patient data during sleep. The technology provides entirely new insights into patient health, as physicians no longer have to rely on random measurements, but gain access to continuous data. Physicians in the U.S. can prescribe Sleepiz One+ to their patients to measure their vital signs in the short and long term, providing greater insight into patients' physiological status. For patients, Sleepiz One+ provides a new and convenient way to take continuous measurements at home by simply placing a small device on their bedside table before bed.