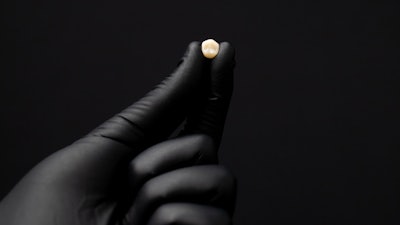 SprintRay
SprintRay announced SprintRay Crown, a 3D printing resin for helping improve the quality of restorative care in digital dentistry.
SprintRay Crown is a materials collaboration between the two companies, that allows dental professionals to 3D print crowns and other restorations in their offices for a fraction of the cost of other methods. The company said it features high accuracy and a print time of fewer than 60 minutes.
"Dental 3D printing solutions, especially for durable restorations, are becoming increasingly important. In addition to the excellent material properties and good esthetics, are the low material costs, the speed in production and the customizability of the dental objects that make SprintRay Crown future-proof," said Thomas Kwiedor, Head of Business Development 3D Printing for BEGO. "The expansion of the partnership with SprintRay and the introduction of SprintRay Crown will further accelerate this trend."