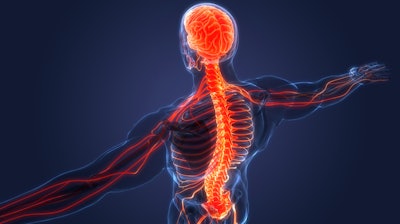 iStock
Empirical Spine recently completed the final step in the U.S. Food & Drug Administration (FDA) submission process for the LimiFlex Dynamic Sagittal Tether (DST). The Premarket Approval (PMA) submission included Module III, with data and analysis of the two-year results from the pivotal Investigational Device Exemption (IDE) clinical trial comparing LimiFlex DST stabilization versus fusion surgery for degenerative spondylolisthesis (degen spondy) patients with spinal stenosis.
The LimiFlex DST is a minimally invasive, outpatient surgical option for this specific patient population. The device previously received the FDA's Breakthrough Designation for its potential to provide significant advantages over currently approved spinal stabilization technologies.
LimiFlex's design creates an elastic resistance to flexion and maintains lordosis, addressing the root problem of excessive instability at the index segment after decompression surgery. It is the only device designed to restore the natural flexion stability of the lumbar spine by mimicking and augmenting the anatomic ligaments to create natural motion across the spine without invasive screws, rods, and bone grafts. After completion of the neural decompression (laminectomy) surgery, the LimiFlex DST is implanted through the same incision to restore stability while maintaining balanced mobility of the spine. The concept was developed to meet healthcare systems' increasing demands for improved long-term outcomes with a lower cost of care.
The PMA Module III submission provided data from the prospective, multi-center, controlled IDE trial comparing LimiFlex to interbody fusion, considered the standard of care. The primary outcome is the two-year results of a composite endpoint comprising functional, neurologic, redo surgery, and device integrity components. The study, which enrolled 299 patients across 27 U.S. spine centers, will continue to follow trial participants out to five years of follow-up.
Completing the entire PMA submission is an important milestone in the commercial approval process for LimiFlex DST. Empirical Spine's other 2022 accomplishments include the submission and acceptance by the FDA of Module II and the presentation of the positive interim findings from the IDE trial at NASS 2022, CNS, and the Mazma Spine Summit.