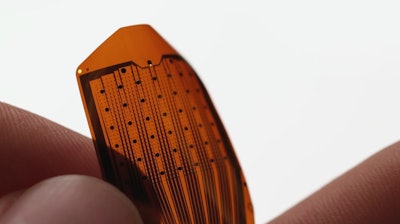 Precision Neuroscience
Precision Neuroscience, a brain–computer interface (BCI) company developing implants that are designed to be high-resolution, minimally invasive and reversible, announced a $41 million Series B funding round led by Forepont Capital Partners.
Mubadala Capital, Draper Associates, Alumni Ventures, and re.Mind Capital also participated in the round, alongside existing investors Steadview Capital and B Capital Group. The new financing enables Precision to continue hiring top talent, while powering further product development and paving the road to FDA regulatory review, expected in the coming months. The latest investment brings the company's total funding to $53 million in under two years.
"We imagine a world where devastating neurological conditions – stroke, traumatic brain injury, dementia – are finally treatable," Michael Mager, CEO of Precision Neuroscience, said. "To reach this world, brain–computer interface technology needs to progress out of the lab and into the clinic. Precision is excited to take on that challenge."
Precision develops implants designed to restore neurological function for these individuals impacted by neurological conditions. Precision's implant, the Layer 7 Cortical Interface, is a strip of flexible, thin film material – similar to a piece of Scotch tape, but with a thickness that is 1/5th that of a human hair. It is configured to conform to the surface of the brain without damaging tissue, and can be implanted using a proprietary, minimally invasive cranial micro-slit technique. Precision's device is the only BCI implant that is engineered to be safely removable. Unlike other minimally invasive approaches, it can process large amounts of data; each microelectrode array comprises 1,024 electrodes, with electrode density 600 times greater than standard cortical arrays. The company holds more than 25 patents and pending patents on its innovative technology.
The brain–computer interface industry is undergoing a period of active growth and development, touched off by crucial advances in microfabrication, machine learning, and microelectronics. Co-founded in 2021 by neurosurgeon Ben Rapoport, Precision has assembled some of the top talent in the field. Within two years of the company's founding, the team has already validated its high-resolution brain–computer interface system and is advancing towards clinical trials in 2023.
"Forepont is proud to lead Precision Neuroscience's Series B raise to support the advancement of Precision's cutting-edge technology," Eric Attias, founder and managing partner of Forepont Capital Partners, said. "Precision is pioneering a BCI product that we believe will achieve patient outcomes that were previously thought to be impossible."