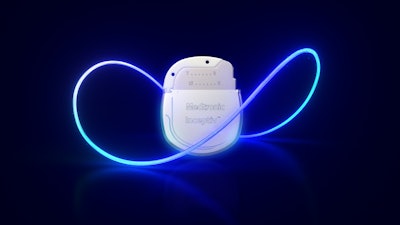 Medtronic
Medtronic has received CE Mark approval for its Inceptiv closed-loop rechargeable spinal cord stimulator (SCS). It is the first Medtronic SCS device to offer a closed-loop feature that senses each person's unique biological signals and adjusts stimulation moment to moment, as needed, to keep therapy in harmony with the motions of daily life.
The company said Inceptiv is able to sense the body's neural response to stimulation 50 times per second, every second of every day. When neural response increases, such as when the patient coughs, sneezes, or bends, Inceptiv automatically decreases stimulation. As neural response decreases, stimulation returns to the pre-set optimal level. This is done to provide consistent therapy while patients perform a full range of daily activities.
The Inceptiv device utilizes a closed-loop capability with ECAPs (Evoked Compound Action Potentials), resulting from decades of Medtronic research and development to unlock the ability to listen and respond to signals along the spinal cord. ECAPs are a direct measure of how much neural tissue is activated in the spinal cord in response to electrical stimuli, providing real-time information that enables the system to respond to patient movements. In a clinical study, 9 out of 10 patients preferred the optional closed-loop setting compared to fixed-output stimulation.
The Inceptiv neurostimulator is the only SCS system in Europe offering both full-body 1.5T and 3T MRI access. Most people with SCS will need an MRI within five years of receiving their device. Inceptiv is also the thinnest SCS device in the world at just 6mm, and it offers the proven benefits of Medtronic's proprietary DTM spinal cord stimulation. The system's battery can be recharged from empty to full in approximately one hour.
The Inceptiv SCS system will be commercially available in the coming months in Europe but is not approved for sale or distribution in the United States.