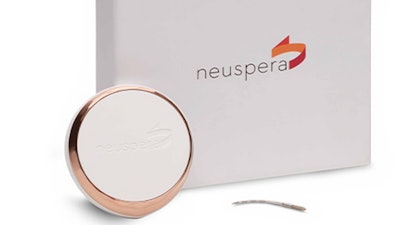 Neuspera
Neuspera Medical, a medical device company developing implantable devices for patients battling chronic illnesses, today announced the first patient successfully implanted with the Nuvella system in its pivotal clinical trial (SANS-UUI). The procedure was performed by Dr. Jodi Michaels of Minnesota Urology, St. Paul, MN. The study will evaluate the safety and efficacy of the Nuvella system, designed to treat overactive bladder (OAB) with sacral neuromodulation (SNM) in patients with urinary urgency incontinence (UUI) symptoms.
The prospective, multi-center, single-arm study will enroll 145 patients globally. The feasibility phase results of SANS-UUI were first presented at the annual meeting of the American Urological Association (AUA) in September 2021 and again at the winter meeting of the Society of Urodynamics, Female Pelvic Medicine & Urogenital Reconstruction (SUFU) in 2022. In 34 patients implanted with the Nuvella system, 90% of subjects demonstrated a 50% improvement in UUI symptoms at 6 and 12 months with two hours of daily stimulation, while 52% were completely dry at the 12-month visit.
Sacral neuromodulation is a therapy for the treatment of UUI that can significantly improve quality of life in patients suffering from this condition. The Nuvella system delivers neuromodulation therapy through a wireless, less invasive platform than commercially available technology. Nuvella is the first sacral neuromodulation device that offers this ultra-miniaturized option, which may allow for a better patient experience and greater procedural flexibility.