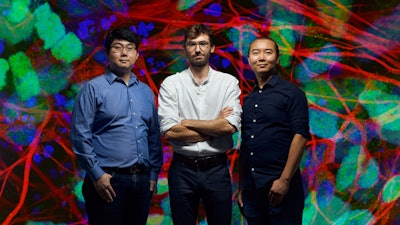 Axoft
Axoft, a neurotechnology company, today launched and announced FDA Breakthrough Device designation for its brain-machine interface (BMI) to better treat neurological disorders.
The company secured $8 million in capital to fund pre-clinical studies with the FDA and to scale up prototypes of its neural implants "as soft as the brain." The capital will also be used to expand the Axoft team.
The company was founded in 2021 by CEO Paul Le Floch and CTO Tianyang Ye, alongside Assistant Professor at Harvard's School of Engineering and Applied Sciences Jia Liu, PhD. Axoft's novel technology was born out of Dr. Liu's work developing materials and designs of ultra-flexible nanoelectronics to mimic the mechanical and structural properties of the brain and was further researched by Le Floch while he was completing his PhD at Harvard in Mechanical Engineering and Material Sciences. The novel implants they developed are gliosis-free. In other words, the implants can reside in the central nervous system for the long term without harm. Axoft's implants also exhibit electrical stability to track brain signals over the long term, and deliver an ultra-high density of sensors to maximize the information that can be exchanged between the brain and electronics.
"Technology leaps in the semiconductor industry, development of novel advanced materials, chip design improvements, and progress in minimally invasive surgical approaches have opened opportunities for neurotechnology to be brought into the clinic and really help patients," said Paul Le Floch, Axoft co-founder and CEO. "The pursuit of elevated quality of life, compounded by the increasing financial burden of neurological disorders due to an aging population are driving the demand for less invasive, more powerful neurological tools."
Axoft's minimally invasive implants create an interface with the nervous system, allowing high bandwidth and stable, single-neuron measurements. Whereas current implants have limited longevity and ability to track the same neurons in the brain over time, Axoft's implant material enables it to stay functional as the brain shifts or grows, minimizing the need for replacement and offering a long-term BMI to seamlessly connect the brain to electronics. Future applications in neuroprosthetics, like brain-control of man-made systems with large number of degrees of freedom, or real-time speech prediction, and in closed-loop neuromodulation for the treatment of movement disorders, memory loss and epilepsy, require communication with a large number of neurons in the brain. Currently approved systems are limited to 16-96 electrodes, which is not enough to enable these applications, and systems under development that have higher channel count typically sacrifice biocompatibility for bandwidth. Axoft's implants are made of materials 10,000x softer than flexible electronics and can embed up to 1024 electrodes in a single strand thinner than a credit card.